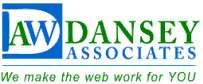 As our client you are important to us and we work hard to raise awareness about what you have to offer.

If you are new to A W Dansey Associates and want more information about our company and what we offer please go to our main web site www.awdansey.co.uk. Thanks
Dear Friends
This site is for our clients. If you are not a client though, feel free to take a look and see what you are missing.
We think of our clients as friends and colleagues. We have been working with many you for some time and the nature of our relationship is that we understand your business quite well. In some instances we buy from you. Therefore we take every opportunity to tell people about what you have to offer and this site is a part of that.
Whilst we cannot take responsibility for the content of these linked sites or the integrity of the businesses, we are happy to suggest that you take a look at what they have to offer. If having done so you have any comments to feed back to us then please do. That way we can help each other.
Best Regards, Alan Dansey
QUICK LINKS
Webmail - For all existing clients
Webmail - For new domains
Mail Filter - For clients using our email filtering service
SERVICE STATUS All services are up and running
LATEST NEWS


Anyone with a org.ok or .co.uk domain name gets priority in registering the .UK equivalent name. We have done that for you free of charge!
Do you get our Newsletters: You should?